About Us
Our History
Sol Alman Company originated in 1905 when Charles Alman, a Russian immigrant, founded the business as the Charles Alman Waste Materials Company in Little Rock, Arkansas.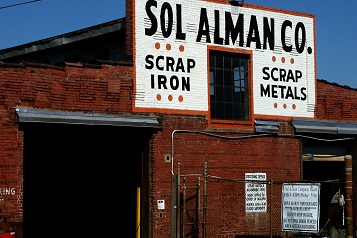 Charles' son, Sol, started working at the business as a boy after school hours, Saturday, and full time during summers. As a young adult, Sol's career as a professional jazz musician was interrupted in 1939 when he began focusing his attention toward helping his ailing father operate the business. Sol legally acquired the business in August 1942 and the company name was changed, at the request of Charles, to Sol Alman Company.
As an astute, aggressive, and hard-working businessman, Sol expanded the business incorporating the latest processing technology and equipment. During the past 30 years, Sol Alman Company has been operating under the leadership of Sol's two sons Charles and Larry Alman.
As a third generation family-owned and operated business our philosophy has stayed the same: Prompt and reliable service, competitive prices, and prompt payments.
Our processing facility located at 1300 east ninth street Little Rock, Arkansas transforms obsolete materials from consumers, businesses, and manufacturers into useful new materials that are essential to the manufacturing of new products.
We recycle non-ferrous metals including copper, aluminum, brass, stainless steel, zinc, aluminum cans, and lead as well as ferrous metals including iron and steel.
Scrap material is processed using large shears, balers, grapple/magnet hydraulic cranes, forklifts, and a fleet of trucks. Processed material is shipped to mills and foundries around the world via rail, truck, barge, and overseas containers. We tackle processing as large as railroad and interstate bridges down to aluminum cans.